Cash to Card
"Cash in" service - allows you to increase your card account balance in any currency by means of ATM. This service is only available at Cash In ATMs.
Transfer rules:
• Select the language;
• Choose "Cash-to-Card" from the menu "Please select transaction";
• Enter the card number of the recipient and click "Press here for continue" button;
• Confirm the card number by clicking "Confirmation" button;
• Then please select any currency you want - AZN, USD, EUR;
• Insert the money into the ATM and click "DEPOSIT". If you want to add more then click "ADD";
• At the end of the transaction, if you wish you can get a check or refuse;
Service fees:
• Commission fee for transfer is 1% for salary cards (min 1 AZN) and 0% for debet cards.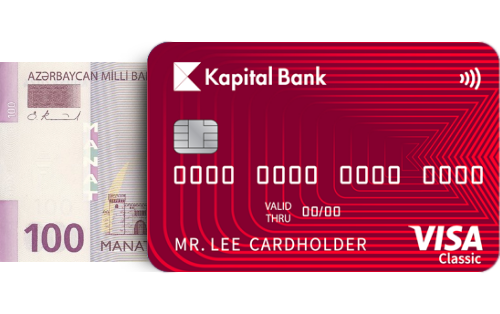 Card to card
Terms and conditions of service:
• With the Card to Card money-transfer service, you can transfer money from one payment card to another using an ATM or Mobile Banking.
• The service is available to holders of Kapital Bank credit cards (Visa Classic, Visa Gold, Visa Business/Business Gold, Visa Platinum, MasterCard Standard, MasterCard Gold, MasterCard Platinum) and personal debit cards (Maestro, Electron);
• Money transferred using the Card to Card service will arrive in the recipient account immediately.
How to transfer money:
• To use the Card to Card service, insert your card into an ATM and choose the appropriate menu option (Payments > Card to Card);
• After selecting the menu option, enter the 16-digit number of the recipient card (twice);
• Enter followed by the amount and currency to be transferred;
• The operation was completed successfully.
Direction
Тransactions within the country
Transactions outside the country
Vəsaitin göndərilməsi
Vəsaitin alınması
Vəsaitin göndərilməsi
Vəsaitin alınması

Daily limit

4 000 AZN

25 000 AZN

1 000 USD

10 000 USD

Limit for 4 days

10 000 AZN

50 000 AZN

2 500 USD

-

Мonthly limit

20 000 AZN

100 000 AZN

2 500 USD

25 000 USD
If the currency of the transaction is different from the currency of the sender or recipient, an additional conversion fee is charged by the sender or recipient accordingly.