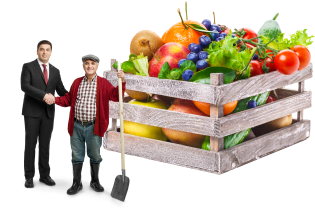 Agro credit
Agro credit is a cash loan provided by Kapital Bank for persons engaged in entrepreneurial activities related to the development of the agricultural sector, production, land improvement, purchase of agricultural machinery.
1 000 - 100 000 AZN

Loan amount

Starting from 16%

Annual interest rate

Up to 36 months

Loan term

Annuity

Type of payment
Informations
Opportunity to get a loan without visiting the place of residence
Opportunity to get a loan without collateral and guarantor
Access to the nearest branch service through an extensive branch network
Opportunity to use grace months for loan repayment
Opportunity to get a free payment schedule depending on the customer's request and the business nature
Age limit: over 20
TIN
Agricultural activity: minimum 12 months
Filial adına klik etdikdə, səhifə xəritəyə yönləndirilir
Annual interest rate mainly calculates based on collateral and credit history
Monthly payment
935.94 ₼
Order
Yüklənir
Zəhmət olmasa bir neçə saniyə gözləyin. Məlumatlarınız emal olunur
Təşəkkür edirik
Müraciətiniz qeydə alınıb. Kreditin rəsmiləşdirilməsi üçün sizinlə qısa müddət ərzində Bankın (012) 310-xx-xx nömrəsi vasitəsi ilə əlaqə yaradılacaqdır. Müraciətiniz üçün təşəkkür edirik!
Ana səhifəyə keçid