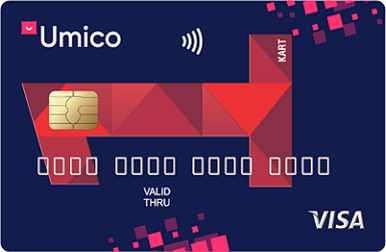 BirKart Umico (Debit)
Bonus debit card
A debit card from Kapital Bank and Umico, which offers cashback for daily purchases.
10 AZN
Card price for 3 years
Cashback in Umico bonuses from Kapital Bank:
- 1% for Umico partners;
- 0.5% for non-Umico partners
Umico Cashback – a part of the purchases amount returned to your bonus account in Umico and BirBank mobile applications. These bonuses are equal to real money and they can be spent on purchases in Umico partner network. To get your joint cashback bonuses from Umico and Kapital Bank, it is enough to present your BirCard Umico bank card and Umico bonus card to the cashier
The amount of accumulated cashback* can be tracked in the Bonuses/Umico/History section in BirBank. Download BirBank (link) and Umico (link) mobile apps to make your purchases maximum profitable and to get convenient management of your funds.
*The maximum amount can be earned in Umico cashback bonuses is 500 AZN in 1 month. Bonuses above the limit are not accumulated and not being transferred to the next month
Cashback is calculated for transactions made from BirBank mobile app according to the following table:
Calculating of earned cashbacks
| MCC | Debet |
| --- | --- |
| Communal | 0.1% |
| Mobile, TV, Internet | 0.3% |
| Other* | 0.1% |
| (*Exceptions: government payments (court, fine, guarantee, tax), post office, financial institutions, transport.) | |
Online card order
These cards provided to you by our bank allow you to make online purchases, make non-cash transactions and so on.
How can I get BirKart Umico (Debit)?