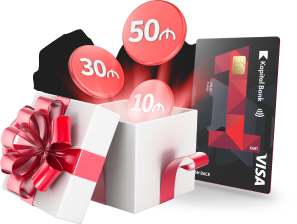 BirKart Kredit kartı
Starting from 1.5%

Cashback

about 3000

Partners

free

Price of the card

interest-free installment

Installment
Birkart-ı
onlayn

dərhal əldə edin!
Birbank kartı
We offer our clients an installment card they can get without effort.
Məlumatlar
Service fee – monthly AZN 2; (When making cashless payments with BirKart in the amount of AZN 500 within a month (excluding credit payments and transfers), the monthly service fee for that month is not charged.)
You can cash out up to 100% your card limit.
Loan interest when used as a credit card (during cash out) - 25%
Grace period: up to 63 days
People who get salary/pension from Kapital Bank or other bank can get BirKart;
Age limit: 18 - 67;
Experience at the last workplace must be at least 6 months (3 months for those who have a salary and pension card in Kapital Bank). There is no such requirement for pensioners;
Required documents: ID card or Military card for servicemen.